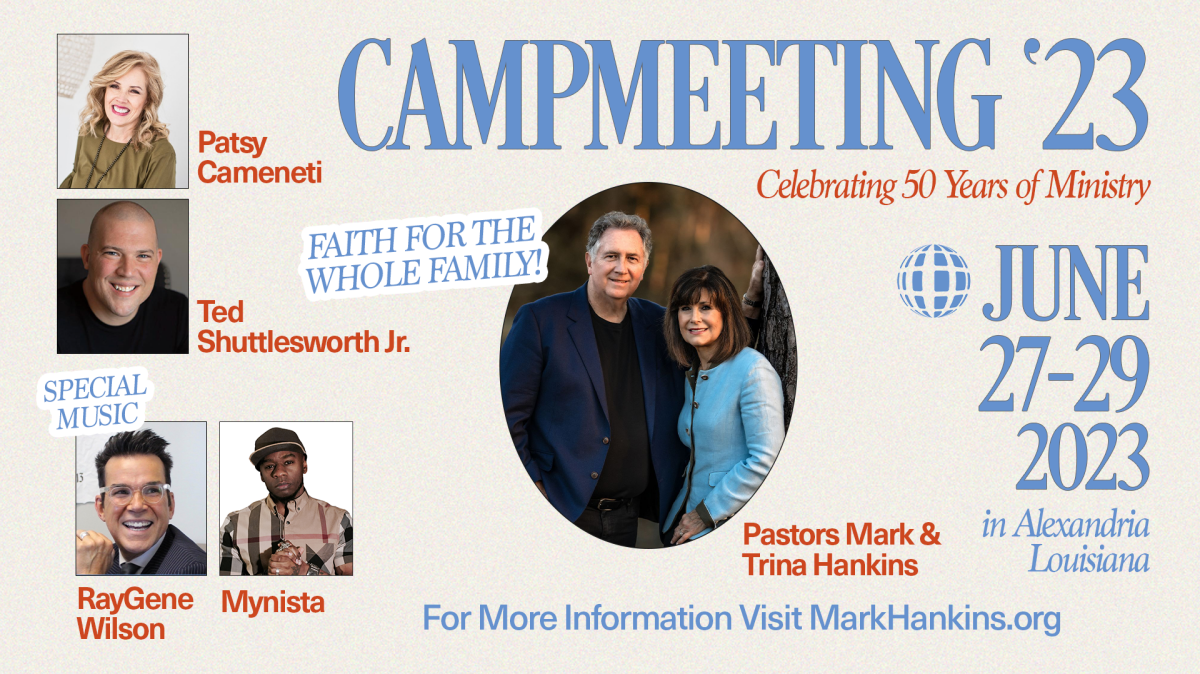 Tuesday, June 27, 2023 - Thursday, June 29, 2023
WHEN & WHERE IS CAMPMEETING?
June 27 -29, 2023 in Alexandria, LA
Christian Worship Center || 6101 Masonic Drive || Alexandria, LA
Tuesday - Thursday at 9am, 10am, 11am, 2pm, 7pm
SPEAKERS:
Mark & Trina Hankins (hosts & speakers)
Rev. Patsy Cameneti
Rev. Ted Shuttlesworth
Pastors David and Vicki Shearin
Pastors Aaron and Errin Hankins
Caleb and Alicia Moran
Pastor Bob Hankins
MUSIC
Raygene Wilson
Mynista
Patrick Vandiver
WHAT IS A CAMPMEETING?
Campmeeting gets its name from the 19th Century when people would gather in a specific location to camp out, listen to preachers, pray, & sing praises to God until they reached a saturation point.
WHY SHOULD I ATTEND CAMPMEETING?
Campmeeting allows you to immerse yourself in the presence of God & opens up opportunities for greater breakthroughs in your life.
IS CAMPMEETING FOR EVERYONE?
Campmeeting is a free-of-charge event open to ANYONE! Not only will you experience breakthrough in our powerful services, but your children will be ministered to on their level with action-packed Bible lessons, hands on arts & craft, and fun-filled games. Nursery will also be available for children 0-4 years of age.